Today marks the start of the 34th International Conference on High Energy Physics, the biggest particle-physics conference of the year. It is held in even-numbered years, and when the conference started, it was always held at the University of Rochester, and hence some people still refer to it as "the Rochester meeting." But now it moves from country to country, and this year it is in the United States, jointly hosted by Princeton and Penn in Philadelphia. (I'd be there myself but for some other exciting events going on; see a future post on that.) It's a big deal; people work hard to produce new science results specifically for this conference. Obviously, at this point the LHC experiments only have so much to say, as we don't have any LHC data yet. There will be several talks about the status of the machine and detectors, plus presentations on the prospects for various measurements.
But even though a lot of people are focused on the jungle, meanwhile back in the states, there is a lot of physics going on! (See here for this week's obscure reference.) In particular, the two big experiments at Fermilab's Tevatron, CDF and D0, continue to put out new results every week. This week there are more results than usual; they were presented in a pair of seminars last Friday. Of particular note (so far) is D0's observation of pairs of Z bosons. This process is not unexpected, but definitely rare; the fact that the Tevatron experiments can even observe this final state shows that CDF and D0 have enough data that they can think seriously about the possibility of excluding — or observing! — a standard-model Higgs boson.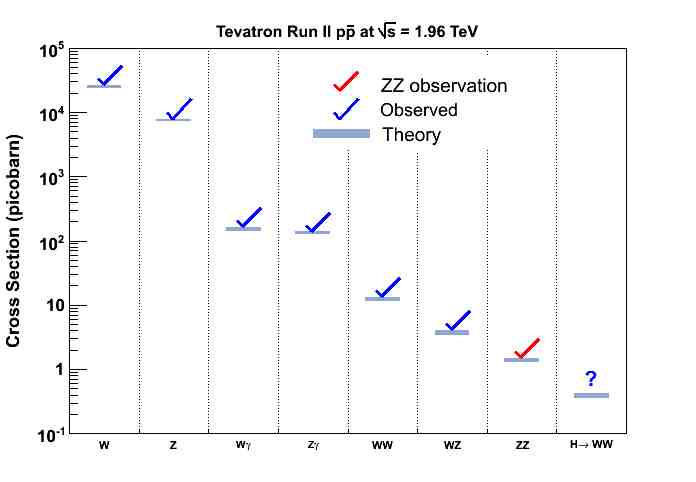 OK, so what about that Higgs boson? As of a few months ago, the two experiments together had accumulated enough data to be able to come oh-so-close to being able to exclude some range of Higgs boson masses. Since then, more data has been analyzed, and the experimenters have been working hard to improve their data-analysis techniques to be sensitive to processes with even smaller rates. It's possible that the analyses to be shown at this conference will actually be able to exclude the Higgs at some masses. If that can be done, it will be the first new direct information about the mass of the Higgs since the end of CERN's LEP program.
As of this writing, not all the numbers have been crunched yet and not all the results have been approved for release, so we don't yet know what the answer is! But keep an eye out for news sometime next week, probably. Here is a plot that shows the Higgs results from earlier this year. A new plot will be shown at ICHEP. If the solid black line goes below 1 on the vertical axis, it will indicate that the data do not support the existence of a Higgs boson at the mass values on the horizontal axis. We await the news….