Like many people, I'm a regular reader of xkcd. It's funny almost half the time, which is a better rate than almost any comic except real classics like the Far Side or Calvin and Hobbes (and at least ten times better than Garfield). And, given my career and hobbies, it often brings up situations I react to strongly — and which may lead me into rants on related subjects even though I'm fully aware the original comic was just a joke. For example, here's yesterday's comic: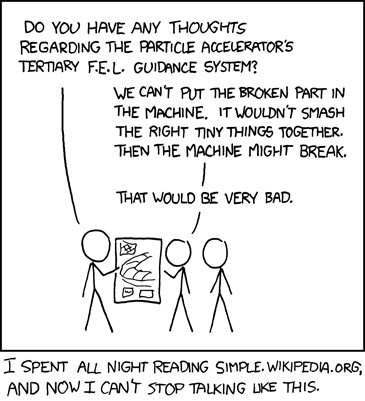 [Image from xkcd used under Creative Commons license]
I've seen Simple English Wikipedia before, but I didn't look for very long: you can't write very much about physics in it, at least not without going mad. The comic illustrates why very nicely: some ideas just can't be conveyed accurately with simple words unless you use way too many of them. (Tiny things is not only simpler than particles, it's also less specific. Are we talking about particles, or kittens?) We really need our terminology.
People don't always differentiate between the words terminology and jargon — Wikipedia sometimes doesn't, a fact that drives me nuts — but there's an important difference. Jargon is what you make up to sound important, while terminology is what you need to describe things without turning a conversation into word salad. For example, let's try to take the terminology out of this sentence:
An electron curves inside a magnetic field.
Which becomes, I guess:
A tiny electric thing from the outside of an atom curves inside a thing made by a magnet.
Or maybe this is close enough:
A tiny electric thing from the outside of an atom curves near a magnet.
But is magnet too technical? Electric? Atom? The solution in Simple English Wikipedia, to be fair, is to link to real terminology that's truly needed. What differentiates terminology from jargon is that you'd rather define the word than remove it from the text, and physics is full of terminology. That's what made this entry on tracking so long. I needed hit, track, momentum, energy, and other words to explain the topic, so I took my time going through them. And that's the key to being comprehensible to non-experts: remove the jargon, keep the terminology, and explain it.