Frank Simon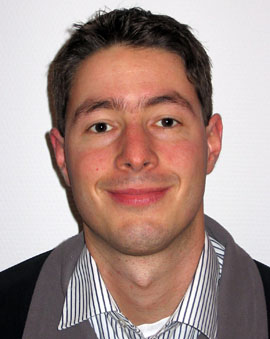 I was born in 1977 in Darmstadt, Germany. I studied physics in Darmstadt and Munich, and earned my diploma in 2001. After a memorable trip to CERN in 1999 I decided that particle physics was what I wanted to do. I started in this field with a 10 months stay at CERN from fall 2000 on, working on my Diploma thesis building detectors for the COMPASS experiment. For my PhD thesis, I moved up in energy and across the Atlantic, to the STAR experiment at Brookhaven National Lab. During that time, I was based at the Max-Planck-Institute for Physics in Munich. I studied the Quark Gluon Plasma, a state of matter that existed in the Early Universe until a few microseconds after the big bang. This state of matter is produced in the laboratory by colliding heavy ions at extremely high energies. I got my doctorate in 2005, and then went to MIT in Cambridge, MA for a postdoctoral position in the STAR group at the Laboratory for Nuclear Science.
Since the end of 2007, I lead a junior research group at the Max-Planck-Institute for Physics in Munich, within the frame of the newly established Excellence Cluster "Origin and Structure of the Universe". My group focuses on the development of calorimeters for the next generation of particle physics experiments at the planned International Linear Collider. These calorimeters, detectors that measure the energy of particles and of so-called particle jets, are being developed in a world-wide collaboration of physicists, the CALICE collaboration. They will be instrumental to map out the landscape of particle physics beyond the currently established Standard Model. Recently, I started to become interested in Belle and SuperBelle, new projects at the MPI for Physics. These experiments at the KEK-B flavor factory in Japan study CP violation, the mechanism that is at the heart of the matter-anti-matter asymmetry in the Universe and thus key for our existence. These exciting precision experiments might also provide hints for new physics beyond the standard model.
Since August 2005, I am happily married to my wife Christina. She joined me in Boston for two exciting years in the north east of the US, and we are now living in the suburbs of Munich. Our time together is always competing with my travel schedule, something that just comes with the job of a particle physicist in large international collaborations. In my free time, I love being outdoors. I'm a passionate skier, and I enjoy hiking, the mountains of the Alps close to Munich as well as the volcano on Maui at sunrise or the Grand Canyon in the scorching heat of August. I'm also a big fan of barbecues, on frozen lakes in winter and in one of the many parks and recreation areas in and around Munich in the summer.