Really though, have you? To date, it has not discovered the higgs boson, or Supersymmetry, or any kind of new physics. In fact, all the Tevatron has done since 1987 was find Standard Model physics. Though, that is my point.
Fig. 1: Aerial view Fermilab's Tevatron Accelerator Complex. These images were  taken around that big pool of water, in the center of the Tevatron Ring. (Photo: Symmetry Mag.)
The Tevatron, for the past 24 years, has done everything to prove that the idiotic, nonsensical, and just plain weird idea that all of matter is composed of quarks & leptons (plus some bosons) is actually correct. Of course CERN's Large Electron Positron is due its respect for confirming the Standard Model first through precision measurements, however, the Tevatron set the thing in stone. Over the past decades, many, many clever physicists have tried to modify the Standard Model by introducing new particles, new interactions, new particles & new interactions, but one-by-one they have been shot down. In my opinion, the Tevatron will always be known as The Standard Model Factory.
The Tevatron: Past & Present
My history with the Tevatron dates back to the summer of 2007, when I was a physics undergraduate who was hired by my then advisor to do some summer research. Since then, I have spent quite a bit of time at Fermilab and have been present for quite a few events. So like many other physicists, I am saddened by the fact that the collider will be shutting down September 30th (next Friday!). Consequentially, I decided to put together a little grocery list of Tevatron discoveries. In full disclosure: below is really just summary of all of Fermilab's press releases since 1995, which in its own right borderlines on being an encyclopedia of particle physics.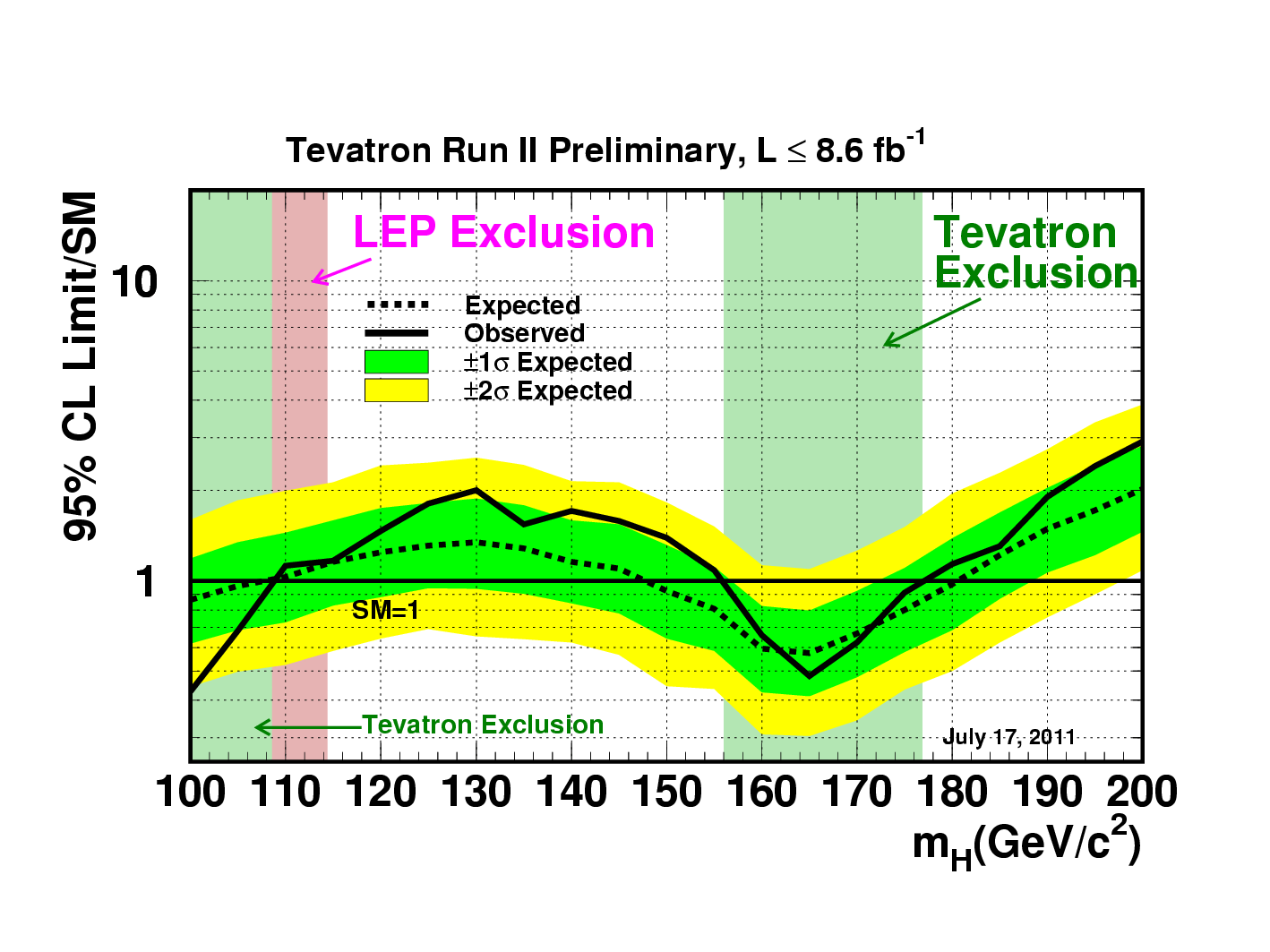 The Standard Model Factory
You know, when I started writing this post I had an idea how impressive the Tevatron is/was. Having systematically gone through each of Fermilab's press releases in search for major milestones, and trust me I omitted a fair number, I do not really know what else to say. I am a bit star-struck. Yes, the Tevatron has been running since 1987 and I happily acknowledge that it just simply cannot compete with the LHC beyond 2012 projections. Just recently, the LHC reached the 3 fb-1 threshold, which translates to generating 1/3rd of the entire Tevatron data set in about 9 months; but really Really, the LHC has some pretty big shoes to fill.
Congratulations to the Tevatron Experiments, past & present, for undeniably establishing the Standard Model of Particle Physics.
More importantly, congratulations to the Tevatron Accelerator Division, for having repeatedly done the impossible because you could.
Happy Colliding.
– richard (@bravelittlemuon)